Recycling of complex plastic polymers
SKYTECH is a player in the circular economy that produces and markets recycled technical plastic materials (ABS, PS) from mixtures of WEEE (Waste Electrical and Electronic Equipment) and VHU (Out-of-Life Vehicles).
Its industrial process is based on the development of an innovative technology:
separation by triboelectricity.
The company will continue its international commercial and industrial development. In 2023, the Italian site will open its doors.
By 2025, the group will have 4 factories in Europe with a capacity of around 190,000 tonnes.
SKYTECH's ambition in 2030 is to be a global player in technical recycled plastic present on 3 continents with a production capacity of 240,000 tons to reach a turnover of 300 M €.
Dedicated team
---
Jérôme Le Conte
Aïda Thiam
Business manager and committee member
Recent Posts
---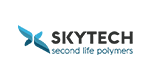 Capital increase of €16 million conducted solely with longstanding shareholder Xerys Invest, bringing the total raised over 2021 to €27.4 ...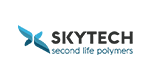 The plastics industry uses several families of plastics to make objects with various characteristics: polyethylene, ABS, polystyrene, PVC, etc. At ...